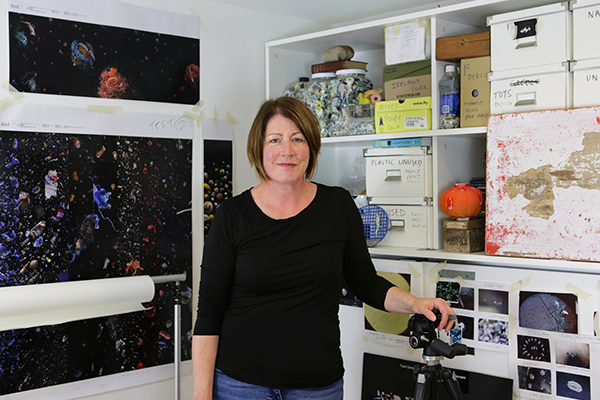 Mandy Barker
Mandy Barker (b. 1964, UK) is an international award-winning photographer whose work involving marine plastic debris over the past 10 years has received global recognition. Working with scientists she aims to raise awareness about plastic pollution in the world's oceans whilst highlighting the harmful effect on marine life and ultimately ourselves.
Barker's work has been published in over 40 countries including National Geographic, Time, The Guardian, Smithsonian, and The Explorer's Journal and the The New Scientist. She regularly takes part in interviews with the BBC, ITV, Greenpeace, Vice, and CNN and her work has been exhibited world-wide from the Victoria & Albert Museum in London, the Science and Technology Park in Hong Kong, the United Nations headquarters in New York, and at over 30 different photo festivals.
Barker was shortlisted for the Prix Pictet Award SPACE 2017, and nominated for The Deutsche Börse Foundation Photography Prize 2018, and the Magnum Foundation Fund. She is also a recipient of the 2018 National Geographic Society Grant for Research and Exploration. In 2019 she took part in a research expedition alongside scientists to the uninhabited Henderson Island which is isolated in the middle of the South Pacific Ocean, to create new work to show the world what now exists at one of the remotest places on earth – raising awareness of the ever increasing issue of marine plastic with the aim of ultimately leading to action.
Venezia
NET
Mandy Barker
CNR Institute of Marine Sciences, Venice
27 novembre 2020 – 28 febbraio 2021